Course details
Shrimp and mushrooms Ajillo · Appetizers Honorable · Focaccia All-you-can-eat ★ Feel free girls party course 3000 yen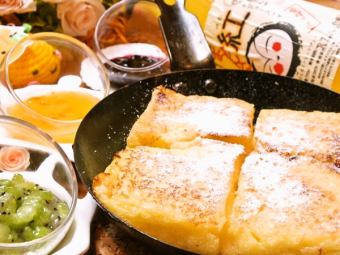 By using a coupon3000 yen
All-you-can-drink available

Always satisfied with those who can not drink ♪ Including non-alcoholic cocktails Always 100 kinds of liquor can be made by yourself LOL Princess ef drinks all you can drink ♪ Quantity and darkness are also your favorite!
Reservation deadline

Until 17 o'clock the day before the desired store visit
Available days for reservation

Monday, Tuesday - Thur - Saturday - Public Holiday
All-you-can-eat Focaccia! Even though it's a standard course, using Ehime's strictly adhered Ehime materials, all of them are homemade! Desert is a female popularity No, 1 hot French toast
Course menu
※ We will respond if you can inform us in advance such as poor food ingredients.
● Baked Fokatcher (All you can eat)
● Assorted appetizer for today (We will change according to purchase situation)
· Broccoli's Arlio Orio
· Simmered seasonal vegetables with tomatoes
· Omelette with mandarin orange
· Setouchu sardines in Nambucana pickles
· Homemade bird ham and carrot marinade
· Local cuisine of Naples Zepolini
· Mortadella ham
We will arrange for you 4 kinds of assorted.
● shrimp and mushrooms ahijo
● Local cuisine of Naples Zepolini and French fries
● Grilled stone kiln Napoli pizza (You can choose from the original pizza with margarita or seasonal ingredients)
● Mandarin orange chicken ~ Mandarin orange sauce and homemade tartar sauce ~
● Female popularity No, 1 stone kiln French toast
※ The content may change due to purchase.
All-you-can-drink menu
· Draft beer ♪
· Asahi barrel raw [It is a rare beer produced only in the Saijo factory in Ehime prefecture throughout the country]
· High Ball ♪
· High Ball · Ginger High Ball · Cork High etc.
· Shochu high ♪
· Base / peach · blue apple · sea coater · lime · gigantic · cassis · plum 【love high】 Ehime's oranges juice + shochu
· Shochu ♪
· Wheat shochu · sweet distilled spirit
Miharuki ♪
· Yume · Yuzu · Acerola · Shiso lemon · Mandarin orange
· Cocktail ♪
· Cocktail base / Campari · Cassis · Peach fiiz · Zazan kangfort · Charleston etc.
· Wine ♪
· Red wine · White wine
· Plum wine ♪
·Plum wine
· Soft drink ♪
· Faucet to oranges juice · cola · ginger ale · oolong tea
· Non alcoholic cocktail ♪
· Base / peach · blue apple · sequaucer · lime · gigantic · cassis · plum
2018/11/12 update