DETAIL
Freshly baked Focaccia 【All you can eat】 2 hours 【All you can drink】 Girls party course 3500 yen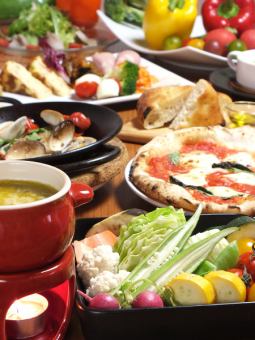 By using a coupon3500 yen
All-you-can-drink available

Always satisfied even if you can not drink ♪ Including non-alcoholic cocktails, you can make yourself more than 100 kinds of alcohol at anytime LOL Princess ef drinks all you can drink ♪ Quantity and darkness are also your favorite!
Reservation deadline

Coming to the store until the desired date of the day 17
All-you-can-eat Focaccia All you can eat, using Ehime materials thoroughly adhered, all of them are handmade! Desert is a female popularity No, hot french toast 1
Course menu
※ We will respond if you can inform us in advance such as poor food ingredients.
● Baked Fokatcher (All you can eat)
● Assorted appetizer for today (We will change according to purchase situation)
· Broccoli's Arrio Orio
· Stewed seasonal vegetables with tomatoes
· Omelet of omelette egg
· Setouchu sardine pickled in Nambaransu
· Homemade bird ham and carrot marinade
· Local cuisine of Naples Zepolini
· Mortadella ham
We will arrange for you 5 kinds of assorted.
● Fresh fish carpaccio salad tailoring
Seasonal vegetable coloring vegetable kiln ~ warm Varna cauda sauce ~
● Grilled stone kiln Napoli pizza (You can choose from the original pizza with margarita or seasonal ingredients)
Grilled chicken with local chicken ●
● Female popularity No, 1 stone kiln French toast
※ The content may change due to purchase.
All-you-can-drink menu
· Draft beer ♪
· Asahi barrel raw [It is rare beer produced only in the Saijo factory in Ehime prefecture even in the country]
· High Ball ♪
· High Ball · Ginger High Ball · Cork High etc.
· Shochu high ♪
· Base / peach · blue apple · sequaucer · lime · gigantic · cassis · plum 【love high】 Ehime mandarin orange juice + shochu
· Shochu ♪
- Barley shochu, shochu
Miharuki ♪
· Yume · Yuzu · Acerola · Shiso lemon · Mandarin orange
· Cocktail ♪
· Cocktail base / Campari · Cassis · Peach fiiz · Zazan kangfort · Charleston etc.
· Wine ♪
- Red wine, white wine
· Plum wine ♪
·plum wine
· Soft drink ♪
· Mandarin orange juice · cola · ginger ale · oolong tea from faucet
· Non alcoholic cocktail ♪
· Base / peach · blue apple · sequaucer · lime · gigantic · cassis · plum

Coupon that can be used
All you can eat Focaccia All you can drink as much as you can on weekdays! 3000 yen each course ~

Presentation conditions

At the time of booking

Conditions of use

LO 30 minutes ago / 2 people / / including women / other tickets / services can not be combined / not allowed to lunch

Expiration date

Until the end of May, 2018

[Birthday · anniversary · surprise]
Message plate service for free ♪

Presentation conditions

At the time of booking

Conditions of use

2 people / / lunch not allowed / course limited / reservation required

Expiration date

Until the end of May, 2018
2018/02/05 update