Course details
【Food only】 Banya Cowder · Ahijo etc. "Focus on quality" girls' association course 2500 yen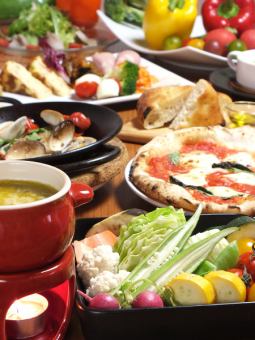 By using a coupon2500 Yen
Reservation deadline

Until 17 o'clock on the desired shopping day
Available days for reservation

Monday, Tuesday - Thur - Saturday - Public Holiday
All-you-can-eat Focaccia All you can eat! Using Ehime's materials thoroughly adhered, all of them are homemade! Desert is a female popularity No, 1 hot French toast
Course menu
※ We will respond if you can inform us in advance such as poor food ingredients.
● Baked Fokatcher (All you can eat)
● Assorted appetizer for today (We will change according to purchase situation)
· Broccoli's Arlio Orio
· Simmered seasonal vegetables with tomatoes
· Omelette with mandarin orange
· Setouchu sardines in Nambucana pickles
· Homemade bird ham and carrot marinade
· Local cuisine of Naples Zepolini
· Mortadella ham
We will arrange for you 5 kinds of assorted.
● Fresh fish carpaccio salad tailoring
● Coloring of seasonal vegetables Vegetable kiln ~ Warm Banya at Cauda sauce ~
● Grilled stone kiln Napoli pizza (You can choose from the original pizza with margarita or seasonal ingredients)
Grilled chicken with local chicken ●
● Female popularity No, 1 stone kiln French toast
※ The content may change due to purchase.
2018/11/12 update